Commercial Landscape Maintenance in Lakeland
Friday June 3, 2022 comments Tags: commercial landscape maintenance, Custom commercial landscape design lakeland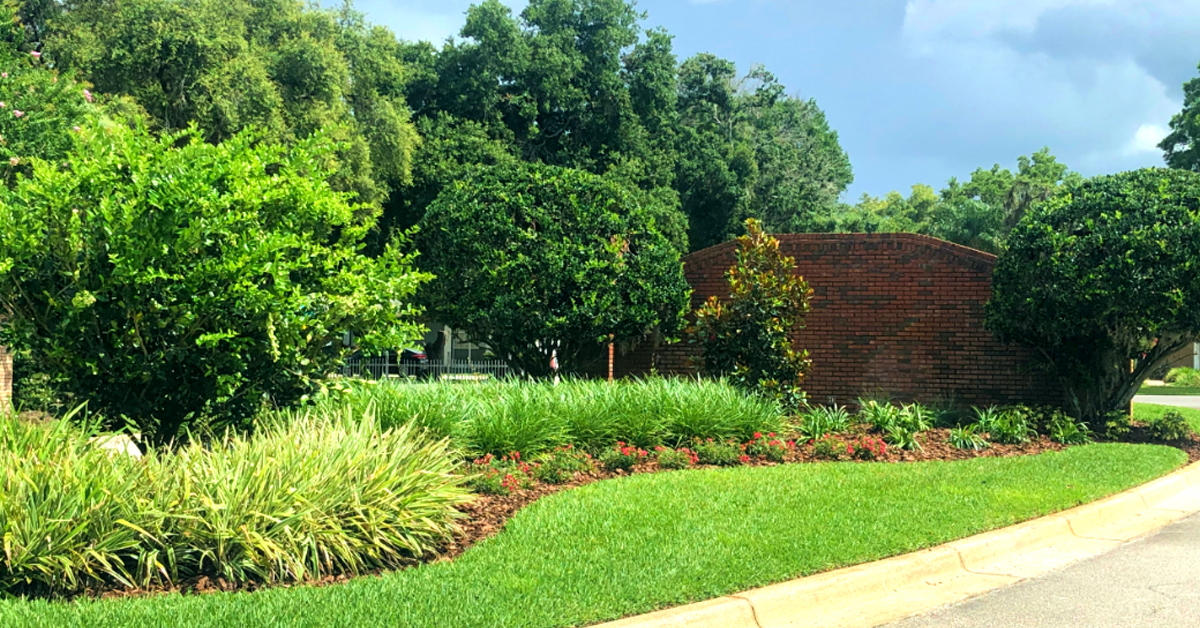 When you look at a gorgeous landscaped area, know that a professional team did plenty of hard work on it. There is planning, designing, and maintaining that needs to be done to the space. A professional landscaping maintenance provider is actually a good investment to keep your area looking great so that you can focus on your business.
What is Commercial Landscape Maintenance?
When you hire a professional lawn care company, you will find many who offer their services in a commercial landscape maintenance package. In the packages, you will receive maintenance for all the exterior grounds on your commercial property. If you manage or own an office building, retail store, or another kind of business location, you probably have some outdoor space in need of maintenance and greenery. These packages come in a variety of price points that can include specifica from simple lawn-mowing to full-scale landscape care.
You Can Have Your Own Landscape Maintenance
A Lakeland lawn care and landscape maintenance company will have a consultation at your business. The team will get a feel for your tastes and what you want in a designed outdoor space. During the visit, you can get recommendations on how to enhance or maintain the look of your property. Depending on your property, your commercial landscaping maintenance company can tailor your needs to meet the specific character of your outdoor spaces.
Advantages of Commercial Landscape Maintenance
With any type of landscaping maintenance, there will be some costs. For a commercial property owner, landscaping should be viewed as an investment. You want to protect that investment with a commercial landscape maintenance program. These programs will help your landscape retain its aesthetic appeal and monetary value. Trees, lawns, and flowers need to be maintained to keep up their health and appearance.
You might think that landscape maintenance only needs a little mowing and watering. However, it is much more labor-intensive than that. Your landscape is an asset to your business, and you need to manage it properly. For those businesses without a lot of green space, you should still think about landscaping services. You might not know it, but your outdoor spaces do say a lot about your company. You want to convey the right message to customers and employees.
In most cases, your landscaping is the first thing that a potential client will see on your property. You don't want it to look unkempt. When your outdoor areas do not have adequate care, it could give your business the impression that you don't value your clients or you are negligent. You never want to lose business because of bad landscaping. A commercial landscape maintenance program will help you to upkeep all of your outdoor areas and attract more business.
Are Commercial Landscape Maintenance Programs Pricey?
You should consider a maintenance plan as an investment. Plans are priced according to the type of service that you want to get, the commercial landscape maintenance schedule, and the size of your outdoor property.
The type of service is the main price factor for many plans. If you want a full-service package, it will be more expensive than a plan with just basic mowing. You will also add to your expenses if you want lawn ornamental care, or irrigation repair/maintenance.
Your commercial property's outdoor space size is another factor to consider with the price. A smaller space will surely be cheaper than a space with acres of land.
A professional landscaping company will be able to work with your budget and find a plan that will fit your needs. Here at Pyle's, we are more than happy to customize a plan for your property.
Commercial Landscape Maintenance, Customized
As you already know, you can customize a plan to meet your property's needs. Companies can manage your grounds by offering mowing and pest management. Some could include landscape enhancements, such as planting flowers or trees. Weed control, irrigation maintenance, and fertilization are popular additions to maintenance plans.
Get the Right Landscaping Maintenance
If you are ready to choose a professional landscaping company, then Pyle's Lawn Service is the right team for you. We can help you find the right commercial landscape maintenance program for your property and keep it looking beautiful throughout the year. Protect your business landscape with a maintenance care package from Pyle's.
For those who want to learn more about the programs at Pyle's Lawn Service, browse around this website and read our other blog entries.
Archives
Subscribe