Friday January 29, 2021 comments Tags: irrigation maintenance, irrigation repair, irrigation system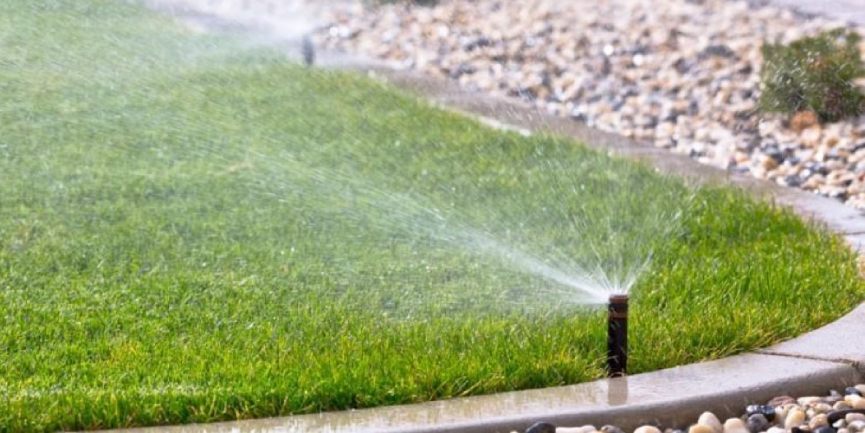 The first step to understanding your home's irrigation system is understanding how the water flows from the main line to the surface of your yard.
This chart demonstrates the basic process:
Zones
↑
Irrigation Supply Line
↑
Water Meter
↑
Supply Line
↑
Water Main
Every home has a water main deep under the surface. Usually, this is the city's main line. Your home's supply line connects to the water main to bring the water you need up to your home. The water then passes through the water meter, which tracks the amount of water used. After the water meter, the main supply line splits in two: one line going up to your home and one line to send water to your irrigation system. Your irrigation supply line then forks into separate valves. Your yard is divided into zones based on each section's individual water needs. These valves control the water flowing to each individual zone. There is also a backflow preventer on these valves to keep the water from the irrigation system from flowing into the home's supply line.
Each of these steps is important for the efficiency of your irrigation system, in which your local Lakeland irrigation experts can help you with. Your water meter helps you monitor usage and water flow. Separate valves prevent over or underwatering in any given area, so you're only using the exact amount of water your yard needs. The backflow preventer is in place because irrigation water can become contaminated from fertilizer or other materials when it reaches the surface.
The catch: all of these systems are underground. Therefore, if you are not investing in regular irrigation repair and maintenance, you could have a leak and not even know it! Or you irrigation backflow could be contaminating your home supply for who knows how long! If you sense that there are issues arising, you can seek help through Lakeland sprinkler irrigation professionals.
If a leak in your supply line goes unchecked, it could waste 129,000 gallons in a month! You don't want to find out about it by getting an astronomical water bill at the end of the month…
Another way to save money and use your water most efficiently is by installing electronic regulation systems. The systems ensure that you are only using the water that you need. Weather monitors are growing in popularity; when it rains, the monitor will notify you, and you can tell your sprinklers that they don't have to go off!
Irrigation systems are easy to understand, but hard for a homeowner to maintain on their own! Regular irrigation check-ups with hep from Lakeland irrigation experts will ensure that your irrigation systems are working seamlessly, saving water and money!
Contact our experts to discuss an irrigation maintenance plan that's right for you!
Archives
Subscribe