Spring Lawn Maintenance Made Simple
By: dpyle Thursday March 12, 2020 comments Tags: lawn maintenance, seasonal lawn care, landscaping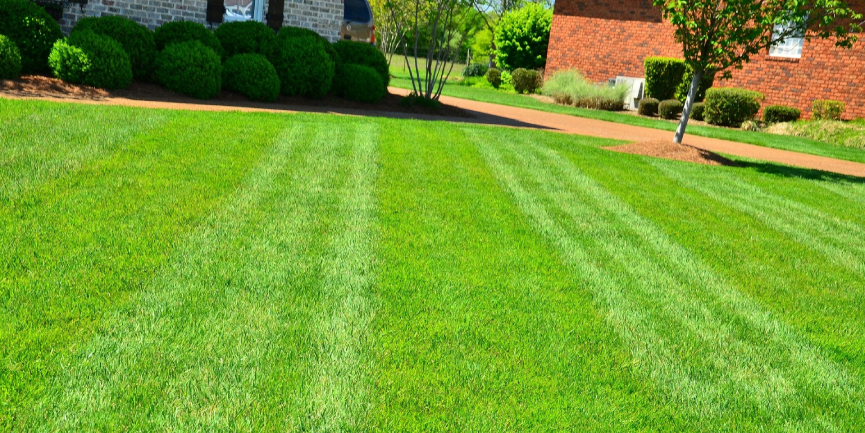 It's finally spring and that can only mean one thing… Spring cleaning! Spring cleaning includes the outside of your home, too! Are you unsure of where to even begin on your lawn maintenance "to-do list?" These 5 tips will help you get your spring lawn look beautiful for the upcoming summer season:
1. Clean up.
Now that the winter months have ended, there's a high chance your grass is spotted with dead leaves and grass. For a healthy, green lawn, make sure you rake these off. Even though we're in Florida, it doesn't mean you shouldn't rake your lawn. Doing so lets your grass be seen without the remnants of the last seasons on top of it.
Your spring cleaning lawn maintenance should always include raking - the dead leaves and old dead grass are an eyesore and makes it harder for your grass to receive proper nutrients due to being blocked from the sun and water. You can also seek help from your local Lakeland landscaping team for the best practices in cleaning up your lawn with their advanced equipment and approaches.
2. Reseed the grass.
Is your lawn looking patchy with brown spots? During winter, your lawn may have developed these dead spots that don't exactly shout out "healthy lawn." For your spring lawn maintenance, plan to reseed your lawn in order to fill out these patches with lush, green grass. You want to make sure you do this because you don't want these patches to be taken over by weeds. If this happens, the weeds will carry over to summer and will not only be a hassle to take care of, but they'll look bad too!
3. Fertilize the grass.
If you're going to do all of the work to make your lawn the best on the block, make sure you plan on fertilizing your lawn. This is a crucial step in your lawn maintenance plan because fertilizing can help to build a healthy root system in the soil. Not only will this bring you a beautiful springtime lawn, but it will ensure your lawn is strong and healthy enough to last throughout the upcoming seasons.
4. Prune.
Pruning? What's pruning? It's when you trim bushes, hedges, or plants in order to promote their health and growth. Your beautiful landscape maintenance deserves to live up to its full potential! Pruning what is damaged and dead off of your plants can encourage new growth. Pruning also allows you to give your landscape installation a little facelift by reshaping and trimming off messy looking branches and leaves. Consulting a Lakeland lawn trimming team to effectively prune and keep your bushes and grass in tip-top shape.
5. Water when needed.
The most important of all… Watering! It's important to find your specific lawn's sweet spot when it comes to how much it needs to be watered. For your spring lawn maintenance, make sure you find a watering schedule that fits your region's climate and weather patterns. Water only when needed! This is because an over-watered lawn brings dead patches that are hard to grow back.
If your goal for this summer was to have a beautiful lawn for the summer, make sure you follow these 5 steps for spring!
While your lawn maintenance can look simple, it takes a lot of time and effort you might not have. Professional Lakeland lawn maintenance experts at Pyle's know the exact way to make your lawn stand above the rest this spring! Get your free lawn care quote from Pyle's today!
Archives
Subscribe