Thanksgiving : We're Here to Help!
Monday November 1, 2021 comments Tags: thanksgiving, Lakeland landscaping experts , Florida Landscaping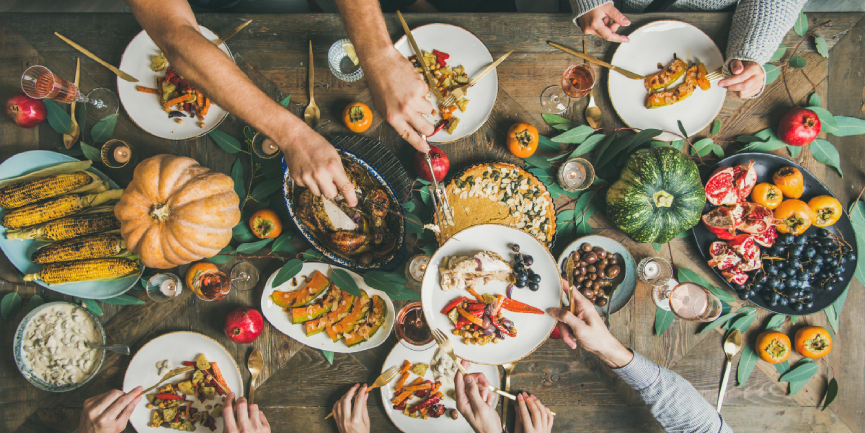 It's fall, and every year we are gearing up for chilly and cozy times ahead. This is also an anticipated season for your favorite fall recipes!
In this blog, your Lakeland landscaping experts are sharing their well-loved fall time favorite recipes!
Turkey
Our Thanksgiving Turkey is fool-proof and flavor-packed! This recipe is easy and can be recreated by everyone, for that perfect feast.
Remove the fully thawed turkey from it's packaging. If included, remove the neck and the bag containing the gizzards and giblets. Keep these for making extra stock for the gravy or you can discard them.
Using clean hands, gently lift the skin from the turkey breast starting on the side closest to the legs. Slide your hand underneath, separating the skin from the breast meat. Repeat the process with the other side.
Slide 3 pats of butter (1 pat = 1 tablespoon) under the skin on each side and spread it around with your fingers.
Mix together the dry rub, and sprinkle it all over the outside of the turkey and press it into the skin. Sprinkle a little inside the cavity, too.
We start with the oven at 325℉, keeping it low and slow for 2 hours (depending on the size) so the meat gets moist and tender, then crank it up to 400 for the last hour to get that crispy skin.
Cut a piece of foil large enough to cover the turkey breasts. Press it down and mold the foil to the shape of the breasts.
In the oven at 325℉ for 2 hours, adding additional time depending on the size (use the chart below). Then turn the heat up to 400℉, remove the foil and roast until the cooked turkey reaches the optimal temperature.
Remove the turkey from the oven and let it rest for at least 15-20 minutes, or up to 40 minutes.
After letting it rest, you can serve it up with your trimmings and stuffing!
Stuffing
No Thanksgiving celebration is complete without the stuffing! For your Lakeland Landscape design team, to spice up your feast, here is our recipe for a simple but tasty stuffing!
Preheat the oven to 250°. Butter a 13x9x2-inch baking dish and set aside. Scatter bread in a single layer on a rimmed baking sheet. Bake, stirring occasionally, until dried out, about 1 hour. Let cool; transfer to a very large bowl.
Meanwhile, melt 3/4 cup butter in a large skillet over medium-high heat; add onions and celery. Stir often until just beginning to brown, about 10 minutes. Add to a bowl with bread; stir in herbs, salt, and pepper. Drizzle in 1 1/4 cups broth and toss gently. Let cool.
Preheat the oven to 350°. Whisk 1 1/4 cups broth and eggs in a small bowl. Add to bread mixture; fold gently until thoroughly combined. Transfer to a prepared dish, cover with foil, and bake until an instant-read thermometer inserted into the center of the dressing registers 160°, about 40 minutes.
Continue to bake dressing, uncovered, until set and top is browned and crisp, 40–45 minutes longer.
With these easy steps, your stuffing is ready to serve!
Trimmings
Mashed Potatoes
This creamy, buttery, and melt-in-your-mouth goodness will always be a Thanksgiving staple! Here's an easy recipe just for you!
In a large pot, cover potatoes with water and add a generous pinch of salt. Bring to a boil and cook until totally soft, 16 to 18 minutes. Drain and return the potatoes to the pot.
Use a potato masher to mash potatoes until smooth.
Meanwhile, in a small saucepan, melt butter and milk until warm.
Pour over warm milk-butter mixture and stir until completely combined and creamy. Add sour cream and stir until combined.
Season mashed potatoes generously with salt and pepper.
Transfer potatoes to a serving bowl and top with remaining two tablespoons of butter. Season with more pepper before serving.
Cranberry Sauce
You can't skimp on the Turkey's partner!
Cook the cranberries, sugar, and 1 cup of water in a saucepan over low heat for about 5 minutes, or until the skins pop open.
Add the apple, zests, and juices and cook for 15 more minutes.
Remove from the heat, let cool, and serve chilled.
Dinner Rolls
Soft and fluffy dinner rolls are irresistible! But most importantly, they bind together your Thanksgiving viands!
Good thing, we have an easy recipe for this Thanksgiving mainstay.
Combine 3 cups of flour, yeast, sugar, salt, warm milk, butter, and egg in the bowl of a stand mixer.
Attach the dough hook and turn the mixer on to the lowest speed and mix until flour is incorporated, scraping down the sides of the bowl as necessary.
Increase speed to medium and beat for 2 minutes.
Add 1/2 cup flour and blend with the dough hook until incorporated. Add another 1/2 cup flour and repeat, mixing at medium speed for another 2 minutes until a ball of dough is formed.
Add additional flour as necessary. The dough should be slightly sticky and soft and pull away from the edge of the bowl.
Transfer the dough to a lightly greased bowl and cover with a towel or plastic wrap. Let rise for 30 minutes at room temperature.
Remove the towel or plastic wrap and deflate the dough by punching down lightly.
Transfer the rolls to a lightly greased quarter baking sheet or 9 x 13 baking dish. Cover with a towel or plastic wrap and let rise for an additional 30 minutes at room temperature.
Preheat the oven to 375 degrees. Bake the rolls for 12 to 15 minutes or until golden brown and cooked through. If the rolls are getting too brown, just tent the rolls with foil.
Remove rolls and brush hot rolls with the melted butter. Serve immediately or store cooled rolls in a plastic bag for up to 3 days.
Dessert
The perfect finish to your memorable Thanksgiving dinner is ofcourse, dessert! For Thanksgiving, there's no other fitting dessert than Pumpkin Pie!
For the crust, Roll out the dough so that it is two inches larger than your pie dish. Gently press dough down into the dish so that it lines the bottom and sides. (Be careful not to pull or stretch the dough). Trim the dough to within 1/2-inch of the dish edge. Fold edges of dough underneath itself, creating a thicker, 1/4-inch border that rests on the lip of the dish. Crimp edges and refrigerate.
For the filling, Whisk eggs and both sugars together until smooth. Add pumpkin puree, cream, vanilla, cinnamon, ginger, cloves, and salt. Stir until well blended.
When baking, Heat oven to 425 degrees F and Transfer pie shell to a baking sheet. Pour pumpkin filling into the pie shell. Bake pie at 425 degrees for 15 minutes. Reduce the oven temperature to 375 degrees and bake for 35 to 45 minutes or until a toothpick or thin knife plunges it into the pie, about 2 inches from the edge, comes out clean. Rotate once or twice during baking. If, while the pie bakes, the tops of the crust become too dark, cover with a thin strip of aluminum foil. Let it cool down in a baking rack for two hours and top with whipped cream!
Getting Your Home Ready for Thanksgiving
Complement your nice and delicious Thanksgiving feast with a spruced up yard! Lakeland landscaping experts here at Pyle's can make your yard as festive as it can be. Contact us today!
Archives
Subscribe