The Benefits of Hedge Trimming
By: dpyle Thursday January 16, 2020 comments Tags: hedge trimming, hedges, irrigation system, landscape design, landscape maintenance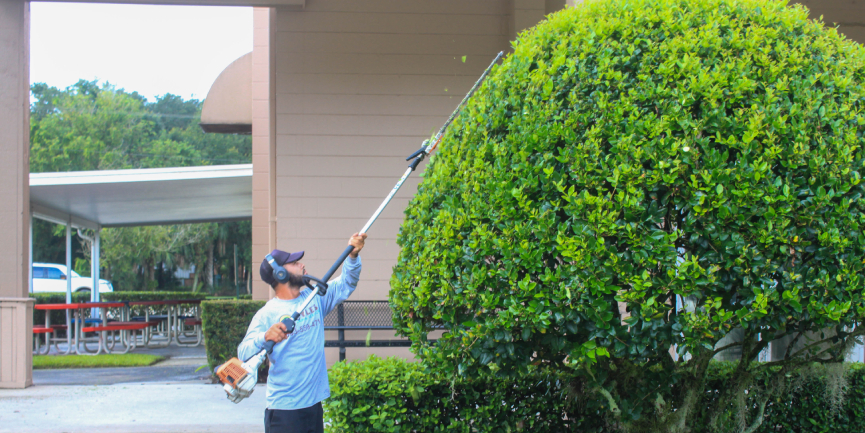 In a dream world, your neighbors would pass by your house and tell you how amazing your landscaping looks and how much they are jealous of it. Well, you don't have to keep dreaming you know? When well-maintained, hedge trimming can bring the element of beauty that you're looking for into your yard!
Stimulates Growth
No one wants a brown, dead, spotty yard. The neighbors with the perfectly maintained yard at the end of the street might give you some dirty looks!
When used with other Lakeland landscpaing techniques, hedge trimming can promote growth in your lawn or yard. This is because when the hedge is cut during the right time of the year, it can cause the branch to stimulate the growth of the root itself as well as encouraging the strength of the hedge. As well, hedge trimming is one of the best practices recommended by your local Lakeland landscaping team that helps prevent pests from infesting your lawn and other plants that surround.
Promotes Safety
Something you may not be aware of is that hedge trimming can be a precaution from damages that can be caused by storms and wind. This is because you are managing the length of the branches and leaves, which removes the risk of them causing a problem. During Florida's hurricane season, a branch could come crashing through your window. The logical answer is to schedule regular landscape maintenance from your trusted Lakeland landscaping company to prevent these types of damages from happening.
Improves Landscape Design
Not only does hedge trimming add beauty to your yard, but they can also act as a natural fence. This is a great environmentally friendly option. These also provide privacy from your surroundings, which can be important to those with nosy neighbors. Your home is your own and privacy is important because it makes you feel safe and comfortable. If you plan on evening out those tan lines from last summer, you may want to consider adding privacy hedges! To gain valuable insight on privacy hedges, you can hire and consult your local Lakeland landscaping company.
Along with privacy, hedge trimming can add value to your home. When the outside of your home is just as taken care of as the inside, the value will go up. An overgrown, dead, or messy lawn won't bring any type of value to your property. Visuals are everything, even with lawns. Even if you aren't planning on selling your home right now, it is always smart to plan ahead for the future.
If you are ready to stimulate growth in your yard, promote safety, and improve your landscape design, you don't need to look any further. Here at Pyles Lawn Service, we know the exact way to make your lawn stand above the rest. Get your free lawn care quote from us today!
Archives
Subscribe